19 Mar

Plan a Production like a Pro: a 10 Step Guide Pt. 2
Part 2
We know you've been waiting for it… so sit down, buckle up and enjoy Part 2 of our "Plan a Production like a Pro: a 10 Step Guide" blog!
If you need to refresh your memory, you can find Part 1 – HERE
6. Shotlisting
Usually something left up to your production company, shotlisting allows the camera operator to visualise the production by creating a shot-by-shot breakdown of each scene. Shotlists usually include information like camera placement, lighting direction, location and dialogue. With these specifications in place, time and money will be saved during the production process – plus, it'll save our long-suffering camera operators a world of confusion, bless their souls.
An example shotlist (Source: www.tjmorano.files.wordpress.com)
7. Scheduling and Callsheets
Ask any Production Manager and they will tell you –  the production schedule and callsheets are the Holy Bible of any production process. These small but deadly document outlines all locations, scenes/shots, equipment, talent, personnel, contact information, dates and times to be even so much as looked at during the filming of the production. Without them, both you and your production company will find it very difficult to manage time expectations and judge whether or not your production is going according to plan.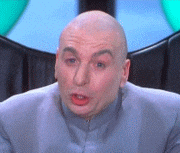 Use a production schedule and callsheet to ensure your plans, evil or otherwise, run smoothly.
8. Location
If you're anything like me and my three best friends (Kirstie Allsopp, Phil Spencer and an entire bottle of Pinot Grigio) on a Friday night, you'll understand the importance of Location, Location, Location.
Oh Kirstie and Phil… you just get me.
There are a number of decisions to be made in regards to location that will have huge impacts on both your budget and the finished production. Shooting in a studio, for example, will be more costly initially but also more efficient, with everything already in place for you to work with. Shooting on location, on the other hand, will involve transportation costs and the occasional pesky bystander in frame but is cost efficient and provides a wider range of scenery. It's important to remember to visit all locations ahead of filming in order to ensure factors like lighting and noise levels are right for the production! This preliminary visit is called a 'location reconnaissance' (or a 'reccy' in industry speak) and is a must for any serious production.
9. Crew & Gear
While even Brian from HR can wrap his head around the basics of scripting, storyboarding and location scouting, knowing which scene to use the Canon C200 in (and, more importantly, how to use it) is somewhat more niche knowledge. The most obvious benefit of working with a professional production company is the industry-standard equipment readily available, as well the know-how to use it! By going to the pros for this aspect of the production process, you could save your company significant money in rentals – as well as the embarrassment of your hand-held camera masterpiece hitting *that* side of YouTube.
You know the place I speak of.
10. Catering
What's cooking? It's no secret that a well-fed, energised production crew is a happy, efficient production crew. However, this requires a little more planning than simply having a stack of BBQ Meatlovers delivered to the set.
First, let's talk numbers. You're going to have to count how many members of cast and crew will be on set each particular day (cue the production schedule and call sheet) in order to then allocate a food budget. As a rule, a full meal should be provided every 6 hours plus drinks (think water, tea, coffee and juice) and snacks (think fruit, chips and wraps) on hand. Surveying each crew and cast member for dietary requirements, such as vegetarianism, gluten intolerances, and allergies, is also a must. If you find yourself stuck for ideas on what to serve, asking your cast and crew what they like to eat is always popular. However, keep the requests within reason: filet mignon = unachievable, Filet O Fish = achievable.
Oprah, on her visions for the catering of this production.
Lastly, a low budget doesn't mean your team has to live large on the dollar menu during the production. Although catering companies provide a hassle-free option, you can always instead take a stab at takeaway or supermarket food, or even go homemade. If you do decide to outsource, make connections with local supermarkets and eateries. It never hurts to ask if they do deals or packages for production catering, or would be interested in creating one for a thank you in the credits. Finally, always order platters over individual meals – they are cost efficient, more likely to last every member the whole shoot and, often, the blog writers get to enjoy some sweet, sweet leftovers.
—
Now that you know the basics of video production, you can go out into the world and showcase everything you've just learnt from your friendly VMP blog writer… Plus, if it doesn't work out like you would have hoped, you can at least contact VMP for all of  your video production needs. We can help YOU plan your production like a pro!
Check out our How-To series with all the tips & tricks you need for shooting your production!
---
CONTACT US AT VMP
VMP is a Brisbane video production house which specialises in many forms of media production.  Our services range from television commercials to promotional videos, corporate videos, online video production, e-learning projects and more (see our recent projects). Delivering quality screen productions for over 20 years, VMP is one of Brisbane's leading video and film production companies. We are your one-stop shop for corporate video production in Brisbane. For more information, quote or just a chat about how we can deliver your message more effectively, please don't hesitate to contact us on 07 3324 0900 or send us your enquiries.
IF YOU LIKED THIS ARTICLE, HERE ARE SOME MORE!